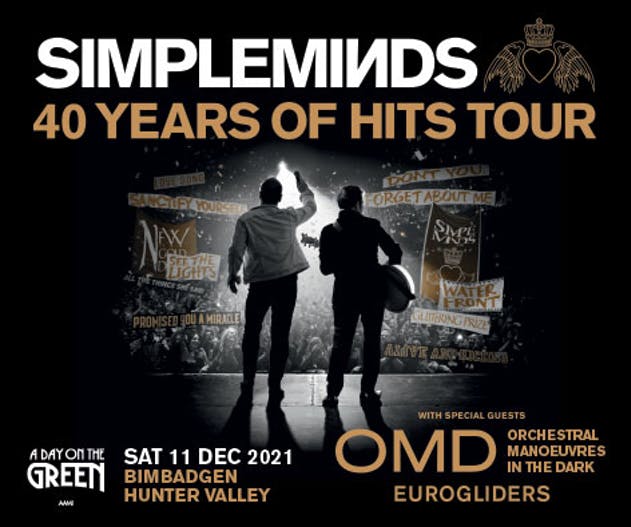 Rescheduled to 11 December 2021 (Originally 5 December 2020) at Bimbadgen Winery Hunter Valley
"It's been said that SIMPLE MINDS has a love affair with Australia and I think that's true."
So says SIMPLE MINDS singer Jim Kerr.
And the love affair is continuing, with seminal Scottish band SIMPLE MINDS announcing they will be returning to Australia in November 2020 for their 40 Years of Hits Tour 2020.
They will be joined by very special guests, UK electronic pioneers ORCHESTRAL MANOEUVRES IN THE DARK, who will be touring Australia for the first time since 1987.
This tour celebrates SIMPLE MINDS' 40: The Best Of – 1979-2019, a 40-song collection that marks the band's 40th anniversary. The compilation features a new song, a cover of For One Night Only by Scottish singer-songwriter King Creosote. Appropriately, you can catch SIMPLE MINDS For One Night Only at a day on the green at Bimbadgen, Hunter Valley.
The a day on the green concerts will also feature Aussie chart-toppers EUROGLIDERS.
SIMPLE MINDS remain one of the world's greatest live bands. But they're not content to rest on their laurels. "I'm grateful for the career we've had," Jim says, "but I'm mad enough to think we can still hit new levels."
"The perception that we're now gathering pace is down to our attitude to playing live," guitarist Charlie Burchill adds. "A legacy can be a burden if you allow it to be – for us, it's been empowering."
Four decades on, they are still very much alive and kicking.
SIMPLE MINDS – Australia's favourite Scottish band – celebrating their 40th anniversary. With OMD and EUROGLIDERS. This is a tour you won't want to miss!
For more information visit https://www.bimbadgen.com.au/events/a-day-on-the-green-presents-simple-minds/
Brokenback Views Country Estate is a short 7 minute drive to Bimbadgen Winery. Rover Coaches offers transfers across the Hunter Valley for events, please visit rovercoaches.com.au for more information.
To view and book luxury villa accommodation near Bimbadgen Winery take a look at our accommodation options.